Our Team Cares About Your Health
---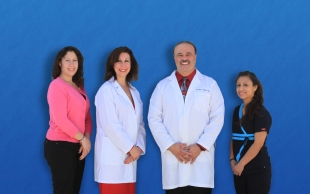 Our staff team is devoted to having our patients receive excellent healthcare in our practice. We have worked together for many years and maybe that's why we have hardly no staff turnover. We understand that it's important for our patients to develop and retain a rapport with our staff; its makes it much easier to be available to assist you with any questions or concerns. Our job is to make you happy. If you're not happy, then we're not happy.
The Crew That Makes Our Medical Center Great
---

Fariborz ShamS, D.O.
Internal Medicine

Dr. Shams received his undergraduate degree from UC Irvine in '83 with a major in Biology. He went on to pursue his medical degree from the University of Health Science College of Osteopathic Medicine in '91. His residency was completed at Detroit Osteopathic Hospital, and soon after completion, he opened up his private practice in Anaheim, CA in 1995. Dr. Shams hobbies (when he has time), include travel, going on cruises, snow ski, and water ski. He loves being near the water, as it sets the relaxing tone for what vacations are all about.
---

SELMA PRECHEL, D.O.
Internal Medicine

Dr. Prechel received her undergraduate degree from Wayne State University in '86 with a major in Biology. She went on to pursue her medical degree from the Michigan State University College of Osteopathic Medicine in '94. Dr. Preschel joined Anaheim Family Medical Center in 2007, and has been a great asset to the practice ever since. Dr. Preschel hobbies & interests include travel, spending time with her family, reading, and hiking. (But most of all she loves being a Physician and how rewarding it is every day to be able to help her patients.)
---

NORA
Office Manager

Nora has been the Office Manager for more than 15+ years. She has a passion for healthcare and loves her patients very much. She is naturally a work-a-holic, so it's not uncommon you will find her going above the call of duty to ensure the office is run smooth and efficiently. She's a busy mom of 4 beautiful children, and has her days and weekends always busy, but when she does manage to find some time off, she enjoys a relaxing day at the spa, going to the movies, dancing, and reading a good book. .
---